Coatings and Colorants
Diama-TLC
Diama-TLC with Microban is a colorant that brings new life and cleanliness to concrete floors. Diama-TLC is a quick turn-around, breathable system to impart a solid, uniform color prior to the application of DiamaPro UV-HS Plus, ESD Floor System, or DiamaTLP. Diama-TLC bonds with the concrete substrate and takes on the performance characteristics of the topcoat. It blends and minimizes surface variations for a uniform, aesthetic appeal that at the same time prevents the growth of molds, mildew, and bacteria.
This colorant offers exceptional durability and chemically bonds to cementitious substrates. Once sealed, it takes on the performance level of the applied sealer whether it be chemical resistance, abrasion resistance, or electra static dissipating properties.
Diama-TLP
DiamaPro® Diama-TLP is a waterborne urethane sealer for interior and exterior applications in an environmentally friendly formulation. It is designed to seal and protect plain conventional concrete and masonry substrates or substrates colored with DiamaPro® Diama-TLC Plus. DiamaPro® Diama-TLP dramatically reduces the adverse effects from dirt, salt, and oil contact. It provides a gloss appearance along with enhancing the color of DiamaPro® Diama-TLC Plus. DiamaPro® Diama-TLP provides a solution when a breathable, UV stable, durable surface film sealer is required.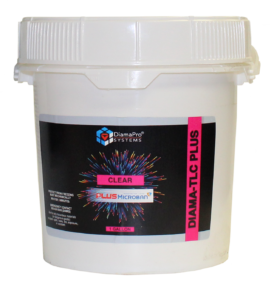 Revives, Colors and Protects Concrete Floors