Ride-On Concrete Grinders
The machine utilizes a small, durable frame that makes it easy to transport around tight areas and fit easily through a standard 36" doorframe. The DP-ROG-60 easily fits on trailers, or in the bed of trucks. With its sturdy lifting and transportation arms, there is no need to have a forklift on site for changing tools or moving the machine.
The DP-ROG-60 has a production rate of up to 10,000sq.ft/hr., tackling large polishing jobs quickly, and reducing labor costs. It's propane powered which means no electric power needed and no cords to hassle with. Its vacuum hose attachment allows the unit to be run wet or dry and it features a high-quality dust and slurry containment shroud.
---
Products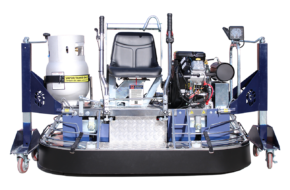 The DP-ROG-60 ride-on grinding and polishing machine.