BMW Spartanburg Plant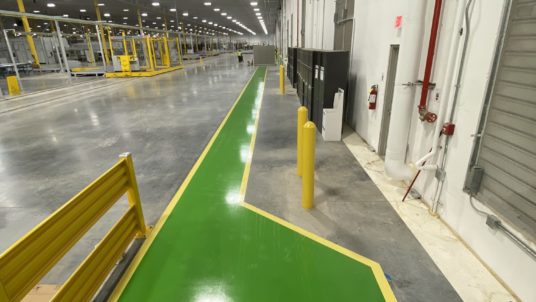 Problem
Recently, the company lifted pandemic restrictions enabling non-employees to enter the facility. This provided the opportunity for contractor Kelly Industrial Services to undertake an aisle-coating project on a relatively new concrete floor.
Solution
Kelly Industrial Services selected a system that consists of DiamaPro Diama-TLC primer/colorant and the UV cured DiamaPro UV-HS Plus as the protective topcoat. The client required a specific color for both the aisle and line stripe, and provided the desired RAL color matching numbers.
DiamaPro Diama-TLC is a colorant that is available in a clear or colorless formula, as well as in standard hues. The colorless version enables installers to use a Universal Waterborne Tint System to produce almost any requested color. This versatility eliminates long lead times when a non-stock color is required, and also enables contractors to inventory only one colorless formula. Contractors can have custom tints mixed at local paint stores just like tinting house paints.
It has an extremely low VOC level of 4.8, is virtually odor free, and has an unlimited pot life. The coefficient of friction for UV coatings meets National Floor Safety Institute certifications, ensuring a safe surface to walk on for employees.
Equally important, UV-HS Plus provides a highly durable, abrasion resistant finish. Photo initiators in the coating formulation react with ultraviolet light to form free radicals. In turn, these react with acrylate double bonds, cross-linking the molecules to form an exceptionally hard surface impervious to abrasion and chemical corrosion. The coating is easily cleaned and impervious to chemicals present within cleaning agents. DiamaPro UV-HS has been demonstrated to reduce the marring resulting from forklifts, pallet movers and related material handling devices.

---