Burnisher
To improve shine and create safe, clean and sanitary floors that last, it is important to incorporate periodic concrete cleaning and floor care procedures into your schedule. High-speed burnishers are primarily utilized for regular floor cleaning, maintenance, and achieving that high-gloss shine.
DiamaPro Systems 27" Propane Burnisher is built job-site tough, has an ultra-low noise level and industry leading power. With a long list of benefits and safety features, this burnisher stands out in the concrete polishing and preparation market.
This propane floor burnisher is fast, allowing the user to burnish up to 34,000 sq.ft. per hour. It's clean and safe with the lowest carbon emissions in its class. It's extremely reliable with a fuel system that requires no adjustments and a lead free lithium-ion battery. Burnisher accessories can be found on their dedicated page.
---
Products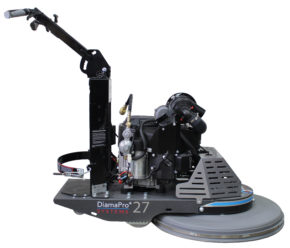 The DiamaPro 27" high-speed propane burnisher features a 27″ pad size and an ultra-low profile for hard to reach areas.