Dual Component Pump
The DiamaPro® Dual Component Pump dispenses material at a 1:1 ratio. It is perfect for use with polyurea and epoxy 2 part joint fillers
Our Dual Component Joint Pump has several benefits and features that aide in ease of use for contractors. This polyurea joint pump has 10 gallon semi-transparent tanks that are easy to swap out, making it user friendly and easy to clean.
What truly sets this pump apart is the unique extendable application wand that is adjustable for workers of all height. This arm keeps workers upright and instead of slouched over - no more back pain! The trigger and flow rate are on the handle for easy access and control.
As with all DiamaPro Systems equipment and accessories, this pump is designed with the contractor in mind and the benefits make that apparent. The clearly marked tanks with corresponding buckets help to avoid jobsite mix-ups. The application wand holder conveniently catches any drip. The pump is easily to maneuver on the jobsite and has durable casters as well as a convenient tool basket and a storage and strap down location for additional material.
---
Products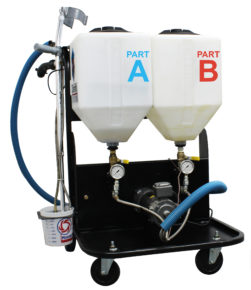 The DiamaPro® Dual Component Pump dispenses material at a 1:1 ratio. It is perfect for use with polyurea and epoxy 2 part joint fillers.