Tooling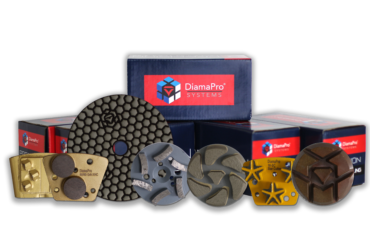 DiamaPro Systems® Precision Diamond Tooling combines science with good, old-fashioned concrete grinding and polishing. DiamaPro Systems' metallurgists scientifically dial in every bond and diamond concentration to provide the ideal compromise between cutting speed and tooling life.

These diamonds have been extensively tested in the laboratory and in the field to ensure the highest quality performance. During the testing process each tool is run on multiple floors because no two concrete floors are the same. DOI, Gloss, Roughness Average, RSPEC, and Haze are measured at each step of the polishing process to make sure every tool meets DiamaPro Systems' standard of excellence.
We've got you covered for any type of application and brands such as: Edco & Werkmaster, Husqvarna, HTC, Kut Rite, STI, and Terrco.

Our extensive line of concrete grinding diamond tooling includes PCDs, Bars, Buttons, 6 SEGS, 10 SEGS, Hybrids, and Resins to fit all major walk behind grinders. Check out our comprehensive line of cup wheels; multiple options to attack any job. Diamond selection is the first step of any concrete grinding or polishing project.
We have you covered with a concrete grinding solution for every surface, application, and machine! Make your work shine with DiamaPro Systems Precision Diamond Tooling.