UV-HS Plus System
The DiamaPro UV-HS Plus System is a UV-curing topcoat that provides unparalleled resistance to abrasion and chemical contamination and is recommended for applications where floors are exposed to heavy traffic and wear, caustic chemicals, and corrosive agents. DiamaPro UV-HS Plus is a proven coating in a wide range of applications such as public restrooms, malls, supermarkets, cafeterias, schools, health care facilities, labs, food processing facilities, and more.
DiamaPro® UV-HS Plus is formulated to protect a concrete, VCT, or terrazzo floor with a fast return to service time. UV-HS Plus is the complete package; withstanding extreme forklift traffic while also preventing the chemical attack from oils, acids, and caustics producing an easy-to-clean floor with minimal downtime.
Whether your facility is an aviation hanger, grocery store, food processing plant, or automotive service facility; DiamaPro® UV-HS Plus has features that will provide a benefit to you, your employees, and your facility.
As soon as you have completed your normal cleaning regimen the floor is put back into service. At that point, dirt and grime begin to accumulate. Bacteria will double in numbers every 20 minutes. If you start with 100 bacteria cells, in a matter of 5 hours you will have approximately 3.3 million cells- and it rapidly goes up from there.
DiamaPro® UV-HS Plus contains Microban® antimicrobial technology. Microban® is a propriety antimicrobial additive that Antimicrobial technology is a solution that inhibits the growth of microorganisms such as bacteria, mold, and mildew. It works at a cellularlevel to continually disrupt the growth and reproduction of microorganisms. Bacteria not only carry disease, but it also produces odors and visible stains. DiamaPro® UV-HS Plus starts working as soon as the initial bacteria hit the treated floor. This provides an added level of cleanliness protection in-between routine cleanings.
---
Products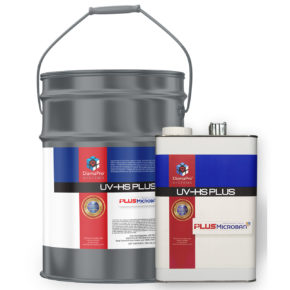 UV cured floor coatings from DiamaPro Systems rejuvenate old concrete floors and help maintain new concrete. UV-HS Plus is a durable, chemical and stain resistant uv-cured concrete coating that protects floors from physical, chemical and microbial wear. It's the perfect fast cure floor coating for your floors.