Microban® Product Protection
For applications where floor sanitation is critical, such as cafeterias, restaurants, supermarkets, health care facilities, pharmaceutical labs, kennels and veterinary offices, our Microban protected products, UV-HS Plus, DiamaGuard HG Plus or DiamaGuard PSR Plus, and DiamaJoint Fill Plus, are the solution.
Microban® Antimicrobial technology is a solution that inhibits the growth of microorganisms such as bacteria, mold and mildew. DiamaPro Systems' Microban-infused concrete floor products begin resisting bacteria as soon as they come into contact with the floor, attacking the reproductive systems of the organisms to eliminate growth. Built-in antimicrobial concrete chemicals, treatments and coatings keep floors cleaner by preventing damaging microbial growth before it can start.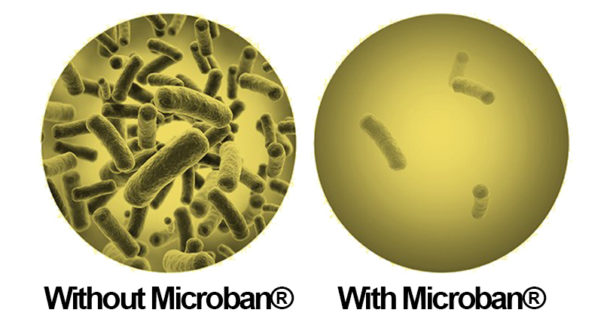 ---
Our Antimicrobial Concrete Chemicals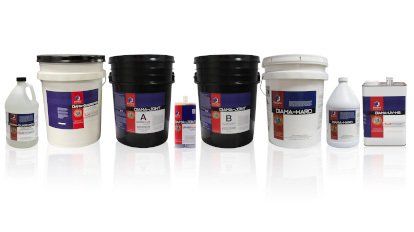 For applications where concrete floors are exposed to a variety of contaminants such as food spills, beverages, urine and other organic materials, trust DiamaPro with Microban Product Protection to inhibit the growth of bacteria on product surfaces.
DiamaPro UV-HS Plus is a UV-cured protective topcoat providing unparalleled cure time with resistance to abrasion and chemical attack. It's recommended for applications where floors are exposed to heavy traffic, wear, caustic chemicals and corrosive agents. DiamaPro UV-HS Plus is a proven coating, while infused with Microban technology, in for a wide range of applications such as public restrooms, auto service, supermarkets, cafeterias, schools, health care facilities, labs, food processing facilities, and more.
DiamaPro DiamaJoint Fill Plus is formulated to withstand the abuse of forklift traffic and support the shoulders of control joints providing a smooth transition over the joint. DiamaJoint Fill Plus combines exceptional performance with microorganism control, inhibiting bacteria growth within the floor joint. DiamaJoint Fill Plus can be shaved and ground within 45 minutes of installing, and a floor may be opened for traffic in one hour.
Diama-Guard HG Plus is a proprietary water-borne protective coating for interior floors. Infused with Microban, an anti-microbial additive, it protects surfaces against stains and etching while minimizing the growth and bacterial and fungal microbes. DiamaPro® Diama-Guard HG can be applied to a surface that has been burnished, steel troweled, or polished, and cement-based terrazzo substrates. If preferred, these surfaces may be burnished after application producing a higher gloss level and easily maintained system.
Diama-Guard PSR Plus is a penetrating, hydrophobic, non-film-forming water and stain repellant for dyed and conventional polished or troweled concrete infused with Microban® Technologies anti-microbial additive. It protects against the penetration of oil and water-borne stains and minimizes the growth of fungal and bacterial microbes. The gloss of the polished surface will not be altered. The slip coefficient properties will not change.
Moisture Control Plus is a water-based penetrating sealer that provides a unique internal barrier that controls moisture vapor that has a negative effect on topically applied coatings, moisture-sensitive flooring systems and polished concrete dyes. Microban® Antimicrobial Technology, an EPA registered chemistry, is infused into DiamaPro® Moisture Control Plus to help prevent the growth of damaging fungal and bacterial microbes, as well as inhibit stains and odors caused by bacteria.