SCR-394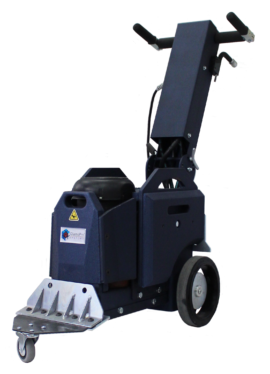 swipe for more gallery photos
Next Steps
DiamaPro SCR-394 - Built better than it has to be
A smarter design
The SCR-394 doesn't have many of the hydraulic components that commonly fail in other machines. No chains, sprockets, drive shafts, bearing blocks or similar parts that reduce power transmission. It's built to exceed performance requirements.
Speed is productivity
The SCR-394 is faster than other hydraulic machines in its class. Forward and reverse speeds of the SCR-394 are exceptional. A tapered spool closed center valve provides smooth variable speeds without flow controls that limit forward and reverse. Operators can reverse at full speed to increase material removal rate and overall productivity.
Safe and simple
The SCR-394 is powered by a 1.5 HP capacitor-start electric motor with a magnetic switch. If the machine is unplugged while running, it cannot accidentally start when the cord is plugged back in. The amperage draw of the SCR-394 is low, resulting in fewer tripped breakers and less downtime, even when using small generators or longer extension cords. This could be general "all the SCR Diamapro machine offer"
A breeze to service and maintain
A single belt drives the hydraulic pump on the SCR-394 and can be quickly accessed without removing the hydraulic tank. It features a single sealed bearing on the cutting head that does not require maintenance.
Easy to transport
The SCR-394 can be disassembled quickly and lifted by two people for loading. Wheel pins may be removed for freewheel movement without actuating the hydraulic valve. The handle adjusts to six different positions to suit different operators and fit in low clearance areas, it also folds over the top of the machine to save space during transport. A front caster is included to minimize the effort of making long moves around the job-site.
Features:
High-performance walk behind scraper
Self-propelled forward and reverse
Forward speed control with full speed reverse
Simple and robust components for long service life and less maintenance
Transport wheel and removable weights for easy transportation
Removes tiles, carpet, VCT, and more

Specifications:
| Technical Data | |
| --- | --- |
| Power Supply | 110V |
| Drive System | Hydraulic |
| Motor Size | 1.5 HP |
| Speed | 72 FT/MIN |
| Cutting Action | Orbital 3700 RPM |
| Weight | 394 LBS |
| Removable Weight | 195 LBS |
| Length | 26" |
| Width (operating) | 13" |
| Height (storage) | 23" |
---