Concrete Pre-Treat Products
Prepare your concrete floors for the grinding process and make post-grinding cleanup easier, faster, and more efficient. DiamaPro® Systems' Pre-Treat chemicals help reduce labor costs and extend the life of the diamond tooling. Compatible with floors to be treated with DiamaPro® densifiers, dyes, and protective treatments, these chemicals can be used on new or existing concrete.
Looking at our DiamaPro® Diama-Cut, this product is used when wet-grinding concrete. Produced slurry solids are lifted away from the substrate, leaving an easier to clean surface for the next diamond step to cut more efficiently. This reduces scratches caused by contaminated slurry created during lower-grit diamond tooling steps.
---
Products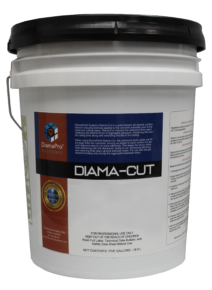 DiamaPro® Diama-Cut is a water-based, pH neutral, surface tension reducing formula applied to the concrete substrate prior to the initial wet cutting steps.