Cape Coral Hospital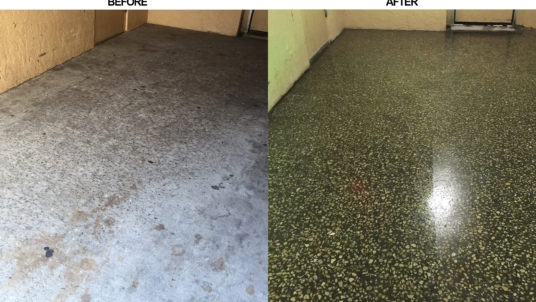 Problem
Surface Degradation and Recurring Slipping
Administrators at Cape Coral Hospital, a part of the Lee Memorial Health System, recently decided to resurface an exterior concrete ramp from its basement pathology and morgue area to amend a recurring slipping problem. Surface layers of the ramp had also eroded to expose aggregate that, in turn, was damaging gurney wheels and other material handling equipment. These conditions were posing safety threats to hospital personnel, as well as cost issues for the healthcare system.
Searching for concrete resurfacing specialists, facilities managers from Cape Coral Hospital contacted Niagara Machine, a leading concrete flooring specialist and national distributor of concrete refurbishing equipment ranging from scrapers, shot blasters and grinders, to dust collection systems, sealants, and coatings. Niagara Machine is also the exclusive distributor of DiamaPro® UV-HS Systems.
Niagara technicians met with hospital facilities personnel to provide an initial jobsite consultation that included both surface and substrate evaluation. It was determined the ramp had higher than average moisture content that was contributing to the degradation of the surface.
The customer emphasized that minimal downtime was required during the repair and coating of the 250 square foot ramp. As the only means of egress, the ramp was frequently used for gurney traffic and an actual shutdown period wasn't possible.
Solution
DiamaPro UV-HS Plus and DiamaPro Moisture Control
To perform the work on this site Niagara chose Miami-based Dura Bond Company, a commercial and industrial flooring expert certified in the application of DiamaPro.
Process
Dura Bond made appropriate repairs to the heavily travelled ramp and pretreated the substrate with DiamaPro Moisture Control. When preparation was complete, the company applied the DiamaPro UV matte coating like a conventional urethane or epoxy, using a squeegee to spread the product, and lightly back rolling. Ideal coating thickness is approximately 1.6 mils. During the final coating, 80-grit aluminum oxide was broadcast to increase slip resistance. Dura Bond technicians then cured the DiamaPro coating using an HID Bulldog 1700-A 110V, 1700 watt, automatically driven ultraviolet light. As the light passes over the coating curing occurs instantaneously and the floor can be returned to immediate service.
The entire process of preparation, coating and curing was completed in six hours, and no interruption of work was incurred. The ramp was shut down for only 45 minutes during the entire working process to accommodate passing the curing light over the DiamaPro coating.
Several days following the initial resurfacing, hospital facilities personnel requested an even higher gradient of slip resistance after initial use of the newly coated ramp. "Although we met the coefficient of friction requirement that was specified, our commitment doesn't end until the customer is thoroughly satisfied and has a thoroughly safe, durable, aesthetically pleasing floor," said Scott Thome, coating specialist at Niagara Machine. Niagara technicians and the Dura Bond team returned the hospital to amend the surface to provide even greater slip resistance. In two hours the team removed the initial layer of aluminum oxide with a 220-grit screen on a DiamaPro Demon and applied another coating of DiamaPro UVHS matte with an even heavier concentrate of aluminum oxide. Once again, the coating was instantaneously cured and the floor was returned to immediate use. This process was completed in less than two hours with no interruption of morgue service. Facilities managers at Coral Cape are completely satisfied with the refurbished surface.
---