Five Star Auto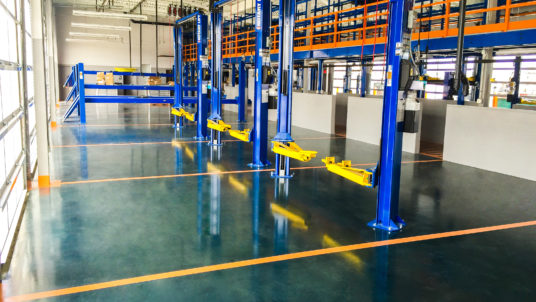 Problem
Concrete floors in automotive service departments are subject to continuous exposure to water, slush, road salts, grease,oil, battery acids, coolants and related compounds, as well as abrasive vehicular traffic. This harsh environment expedites the breakdown of the flooring surface,resulting in cracking, chipping and staining
Solution
DiamaPro UV-HS Plus is an ultraviolet light-cured, aliphatic urethane that offers unprecedented resistance to water, chemicals and physical abrasion. Unlike other resinous(epoxy) coatings, DiamaPro UV-HS Plus will not peel, chip or wear to expose the concrete surface retaining the systems easy-to-clean properties.
Laboratory testing proves that DiamaPro UV-HS Plus is impervious to water, petro-chemicals and caustic fluids such as Skydrol and battery acid. Common items found in the service environment such as grease,oil and other chemicals can't penetrate the coating and stain the surface beneath.Also, DiamaPro UV-HS Plus is infused with Microban® Antimicrobial Technology during the manufacturing process to prevent the growth of stain and odor-causing bacteria, mold and mildew. This feature makes DiamaPro a particularly effective coating for restrooms, vending areas and offices, in addition to service departments.
DiamaPro UV-HS Plus results in a safe,easy to clean surface for employees and customers. It has a coefficient of friction that exceeds all regulatory requirements.For areas that are constantly exposed to water such as wash bays, anti-slip additives can be mixed into the formula to provide an extra degree of safety.
---