Madison Equine Veterinarians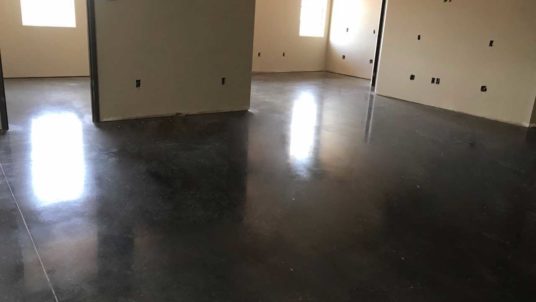 Problem
Veterinary and Healthcare Facilities Struggle to Find a Floor Coating that Meets their Requirements of Safety, Durability and Sanitation
Recently, Piedmont Equine Associates located in the heart of Madison, Georgia horse country, undertook a major construction project to add more stalls, a birthing area, and a new operating suite. Safety and sanitation were first and foremost concerns guiding the planning and construction, particularly in choosing a protective floor coating. Slip-resistance, stain and bacterial resistance, low maintenance, and long-term durability under heavy traffic were the primary criteria in selecting this floor coating.
Solution
DiamaPro UV-HS Plus
In collaboration with their general contractor, Piedmont reached out to Elite Flooring based in Macon, Georgia, for coating recommendations. Elite has substantial experience in innovative flooring systems and specializes in solutions for unique and demanding applications. The company is a certified installer of one of the most advanced floor coating to emerge in recent years- DiamaPro UV-HS Plus – and Elite technicians laid out the benefits that DiamaPro could bring to the veterinary service.
Preventing Chemical and Microbial Corrosion
DiamaPro Systems UV-HS Plus is a durable urethane coating that protects concrete floors from physical, chemical and microbial corrosion and wear. DiamaPro contains Microban, an anti-microbial additive that minimizes the growth of bacteria by disabling the reproductive system on contact before additional cells can develop. This helps keep the floor cleaner longer and reduces the spread of germs and potential disease.
"Floors in veterinary centers and the healthcare industry in general require optimal protection from caustic and acidic chemical agents," says Scott Thome, Manager of DiamaPro Systems. "DiamaPro UV-HS Plus with Microban is an ideal coating for these conditions. DiamaPro also offers incredible durability and a high coefficient of friction, and it's easily cleaned."
UV curing eliminates odors and allows areas to be inhabited during coating
Unlike conventional urethane floor coatings that are chemically cured, DiamaPro UV HS Plus cures instantly upon contact with high-intensity ultraviolet light. Once the light travels over the floor the film is developed and the floor can be immediately used. Both general contractors and their clients embrace this method over chemical curing because it minimizes downtime and efficiently restores floors to usage.
Safe, sanitary and easily cleaned
DiamaPro UV HS Plus cures to an extremely hard and durable surface, and will not chip, crack or form crevices like epoxies. This eliminates the places where bacteria, molds or mildews can grow, resulting in an inherently cleaner and appealing floor.
A non-skid aggregate may be induced to DiamaPro to optimize traction properties. The tightly cross-linked film can also be cleaned with conventional cleaning solutions, which in turn are selected according to the type of contaminate being removed.
Piedmont approved the application of DiamaPro to the new veterinary floors, and Elite Flooring completed a mock-up area to enable Piedmont personnel to sample the surface preparation process and the performance and appearance of the finished floor. To complete the installation, Elite used surface grinders with diamond tooling to create an open, durable surface profile. Once preparation was completed, two coats of DiamaPro UV-HS Plus coating were applied, each instantly cured with UV lighting.
"Piedmont's new stalls, birthing room and operating suite have sanitary floors that are highly resistant to microbes and stains. They are safe for the horses and veterinary teams, and can be easily cleaned with routine maintenance," says Scott Thome. "And these benefits will last for years to come."
---