Toyota Forklifts of Atlanta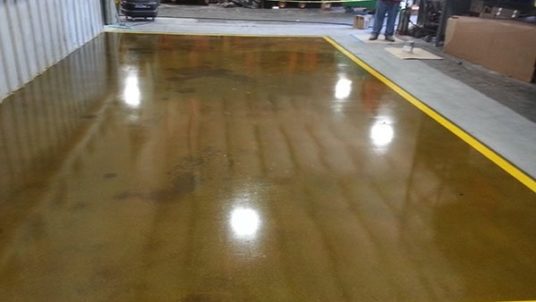 Problem
Abrasion, Staining, Heavy Vehicle Traffic 
Like its customers' manufacturing, industrial and warehousing sites, the concrete flooring at Toyota Forklifts of Atlanta undergoes extreme abrasion, staining and corrosion from heavy rolling vehicle traffic. Periodic maintenance on the floor at Toyota Forklifts of Atlanta resulted in the accumulation of several layers of epoxies and paints that had to be removed as part of the restoration process. The floor also required extensive oil remediation prior to sealing. Recently Toyota Forklifts undertook renovation of the concrete flooring at its Atlanta location. Sanchez Flooring Solutions was contracted to manage the project that entailed 15,000 square feet of refurbishing and polishing, along with a 400 square foot battery charging area that required a specialized coating able to resist deterioration due to acid corrosion.
Solution
Heavy Restoration & DiamaPro UV-HS Plus
Sanchez Flooring Solutions chose Niagara Machine to supply the required shot blasting, grinding, scraping, polishing and dust collection equipment to be used on the job, along with the diamonds, sealers, coatings and colorants. In addition, Niagara Machine supplied DiamaPro UV-HS Plus coating to protect the customer's battery charging area and trained and certified the flooring crew in its use. "I chose Niagara Machine because they're a one-stop resource for any equipment and materials I need," said contractor Sergio Sanchez. "Just as important, they serve as consultants. They know what equipment will perform best for any application, and they train my crew how to use it." The goal of the renovation was to produce a highly abrasion and stain-resistant floor that was easy to maintain, appealing to its employees and customers, and could be relied upon for years of performance.
---