Turner Concrete Professionals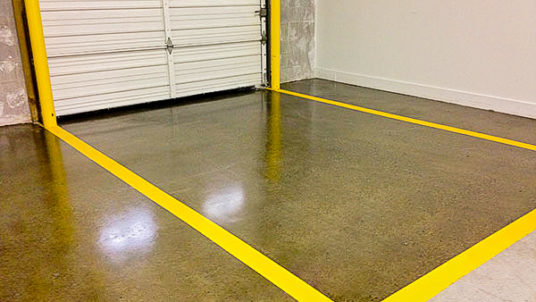 Problem
Badly Worn Floor
After a decade of rugged use, Turner Concrete Professionals company president Ken Turner decided to resurface the badly worn 4,000 square foot concrete floor in his own facility. It was Turner's plan not only to rejuvenate the floor, but also to turn it into a warehouse showroom for his customers, as well as for a large property management company that also occupied the building. In addition to being extremely worn, the existing concrete floor at the Turner Concrete Professionals headquarters had been coated and stripped numerous times by previous tenants.
Solution
DiamaPro UV-HS Plus
Turner's plan included finishing the floor with the most recent advancement in concrete coatings, DiamaPro UV® Systems. "We saw the resurfacing of our own warehouse floor as a convenient means of familiarizing ourselves with this new product," said Turner. "What better way to evaluate it than to try it out on our floor?" The company got in touch with Niagara Machine, Inc., exclusive distributor of DiamaPro UV, and the resurfacing project was underway.
Process
The first step in the prepping process was to remove previous coatings and repair spalls, pop-outs, and bolt holes from old shelving. The Turner crew used Metzger/McGuire Rapid Refloor Pit Grout to repair scratches, gouges, pitting and other defects in the floor. Metzger/McGuire RS 88 was used to fill and protect joints. Grinding and dust collection was done with three Lavina® 30G-X grinders paired with Ermator S-36 HEPA dust extractors. The Lavina grinders are propane powered and utilized a belt-driven planetary movement. And additional axis allows the entire base to float over the surface in any direction. The Ermator S-36 dust collectors feature three vacuum motors providing 350 CFM and 110 inches of waterlift. Jet Pulse filter cleaning enables filters to be purged during operation, and drop-down dust collection bags ensure easy, dust-free handling and disposal.
In addition to resurfacing, Turner's plan called for the application of a company logo and corporate colors. The crew used Ameripolish® SureLock™ Dyes in Slate and Patriot Blue to recreate the logo and decorative design. To ensure safe, non-slip footing in the dock area, an anti-slip agent was incorporated into the second layer of the UV coating. The DiamaPro UV coating was then applied and instantly cured with a portable Hammerhead ultraviolet light leased from Niagara Machine. Niagara Machine technicians provided onsite instruction and certification for Turner Concrete employees, a step-by-step, hands-on service that qualifies them to apply DiamaPro UV coatings for their own customers. "We like what we see," said Ken Turner. "I think it says a lot that we chose DiamaPro for our own floor, and I'm looking forward to showing my customers the results of this new coating technology."
---