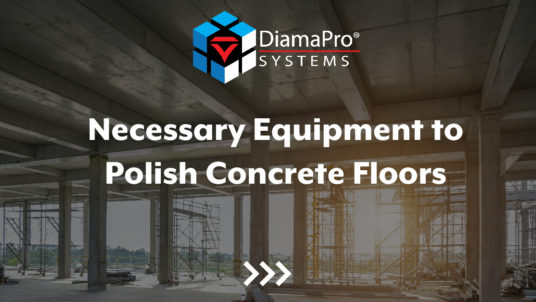 ---
DiamaPro Systems Director of Product Development, Scott Thome, recalls, "I remember going into a tire manufacturing facility with a floor covered in melted rubber. They wanted the rubber removed and a system applied to the floor allowing future rubber to be removed easily. Removing the rubber was performed with the correct tooling. The contractor recommended a polished surface to the client in lieu of a topical coating that would eventually wear away in this situation. This left the area smooth and quite easy to clean later."
Now that Architects and Interior Designers have incorporated polished concrete into their designs, it is extremely popular. More contractors are adding it to their offering and big box stores are polishing their entire facilities, which is helping to move it into the residential market. The public walks on a polished concrete surface almost every day and now they want it in their living areas, garages, shops, and basements.
Equipment Availability
The wide variety of equipment needed to successfully polish a concrete floor can be rented or bought. You can rent the exact equipment that is available for purchase. The outcome will be the same either way. Installers will typically rent a few times before taking the plunge into owning their own equipment.
When selecting where to rent or buy, evaluate the level of service you will be receiving. Service starts when you make a phone call inquiring about the equipment. E-commerce websites have opened the world to manufacturers and distributors to present their goods online. You can compare pricing, availability, sizes, and complete packages which includes everything you will need to polish your first project. For first-time installers or crews that need some training on the new equipment, using a company that has local sales technicians is beneficial. It is difficult to train a crew over the phone or on FaceTime.
Grinders need maintenance to run at their peak performance. Most maintenance can be performed by a person with some mechanical aptitude. There will be times when you need a factory-trained mechanic to work on the machine. It works well to have it serviced where you bought it from.
If you are looking for that one-on-one training, equipment demonstration, or need maintenance on your equipment reach out to DiamaPro Systems to find the Certified DiamaPro Technician near you!
Concrete Floor Grinder Types
There are three types of grinders that are used to polish a concrete floor, planetary grinders, rotary direct drive grinders, and ride-on grinders. Typically, a planetary or ride-on concrete grinder is used to polish, and a rotary grinder does an excellent job at coating and adhesive removal. It does not mean that either one cannot do both jobs. Many floors have been polished with a rotary machine and many square feet of removal have been performed with a planetary machine. Which one will be best for you, that is where renting can come into play. You can try them both and decide which one is best to purchase.
There are two power types, electric and propane. They both work very well and come on the planetary, ride-on, and rotary grinders. Electric power was on the very first grinder that was produced. It is a dependable power source. Electric concrete grinder power requirements are decided by the size of the machine. They can run from 110v 20-amp to 480v 50-amp 3 phase. The more power it needs, the larger the machine will be while increasing productivity. You need to evaluate your business model. Residential garage floors, commercial/industrial facilities, or big warehouses, what is in your plan?
Propane, over the last 8-10 years has grown in popularity. No grinder cords to work around and no need to search for the correct house power. Portable generators can be brought in to produce the amount of electrical power needed but with propane, which is not needed. A well-maintained propane grinder runs exceptionally clean. The emissions are measured using a CO2 sensor connected to the machine. If the levels are too high, a warning will sound, and/or the machine will shut off.
The Ride-On-Grinder was developed to increase production. They come in varied sizes but a 60"x30" is the most popular. It is small enough to get through a 36" commercial doorway while having a 60" cutting path. If you are going to be removing heavy mastic, this is not the machine for the project. If you are going to polish a large area, this will increase your productivity.
Most ride-on floor grinders run off propane. They usually run wet, but some can be run dry with a vacuum attachment capturing the cement dust. They look like a power trowel used to finish fresh concrete. A polishing-specific Ride-On-Grinder has features that make it much more conducive for polishing than a concrete power trowel.
Take a look at the DiamaPro Systems ROG-60 propane ride-on concrete floor grinder. This machine runs wet or dry and is built to tackle any job size. The ROG-60 ride-on grinding and polishing machine was engineered specifically for the concrete prep and polishing contractor with features and benefits contractors want and need on their job site!
Vacuum Types
Initially, the equipment available to the contractor came out of the terrazzo industry. When installing terrazzo, the systems are cut wet with no need for any dry dust control. The dust is encapsulated in the wet slurry that is produced and then disposed of. As time moved on, planetary grinders were introduced, and dry grinding became more prevalent. With dry grinding, concrete dust control became a necessity.
During the polishing process, concrete dust is generated. Concrete dust holds silica which is harmful to breathe. Having a good dust collector designed for the grinders' output is extremely important. If you are using a 26-inch rotary machine, a shop vac will not cut it. You will be generating way more dust than that little vac can manage. The manufacturer of the grinder you are using will supply the CFM (cubic feet per minute) and water lift needed for that machine. If you are in the buying mode, many distributors will have grinder/vac packages available. This is an excellent way to make sure you match them up correctly.
When the vac is running there will be times when the filters need to be cleaned (purged). When purging, the filters are shaken, knocking off the dust, while keeping it running at a high efficiency. Some models have an automatic purge feature while others will require manual purging. They will both extract and capture the dust efficiently. The type you end up selecting is a personal preference.
If you ever have trouble determining which DiamaPro dust collector is suitable for your floor grinder, don't hesitate to give the experts a call. DiamaPro Systems Certified Technicians are always around to help!
Air Scrubber
This is a vacuum for the air. Some will have a HEPA filter capturing small airborne dust particulates, and all will have a primary air filter like a residential furnace. They come in various sizes which are based on CFM (cubic feet per minute) of airflow. To figure out the size best for your project, take the square foot of the room and multiply it by the ceiling height. Example: Room size = 20' x 30' = 600 with a ceiling height of 10' = 6000 cubic feet. If you use a 2000 CFM air scrubber, the air in the room will be exchanged once every 3 minutes. DiamaPro Systems manufactures air scrubbers in 500 CFM, 1000 CFM, and 2000 CFM. These are great to use in an area where maximum dust control is needed, which could be on every project. If you are unsure of what size air scrubber would work best in your situation, reach out to a Certified DiamaPro Systems Technician for assistance!
Auto-Scrubber
An auto-scrubber is used to pick up wet cement slurry or just clean the floor. It has a rinse water tank, recovery tank, brush/pad driver, and squeegee. There are self-propelled and manual push models. They come in a multitude of sizes depending on the size of the area you will be cleaning. As water is sprayed onto the floor, the brush or pad cleans the floor, with the squeegee in the down position, it extracts the dirty water from the floor leaving a clean surface.
Auto-scrubbers are a necessity when polishing concrete. If wet cutting, a tremendous amount of wet cement slurry will be generated. This slurry needs to be extracted from the floor and disposed of appropriately. The auto-scrubber will perform several duties when wet grinding. It scrubs the floor breaking loose any dry cement slurry. If the slurry becomes dry, it will add water making it easier to pick up. With the wide rear-mounted squeegee, it captures the slurry and the wet vacuum within the unit extracts it.
When dry polishing, the bond that holds the diamond wears away leaving used diamond pieces on the floor. If you do not pick up these scrap diamond pieces, they will scratch the floor when the next finer grit is used. By auto-scrubbing between cuts, this issue is eliminated.
Hand Grinders
Handwork almost always needs to be performed on a concrete polishing job. If there is a wall, partition, floor drain, or piping coming up through the floor, the large grinder will not be able to polish next to it. It must be done by hand using a hand grinder. There are two types, grinder, and polisher. A grinder is used to remove stock and the concrete hand polisher will smooth the surface. The main differences are the size (diameter) of the cup wheel and adjustable speed. The larger grinders are typically one speed, fast. With a suitable grinding cup wheel, they will remove concrete. Caution and skill are needed when running one of these. It's recommended to move slowly at first to gain experience. If not, the floor could be damaged. The variable speed hand grinders are usually used to polish and have a smaller wheel.
Joint Saw
When concrete is placed, control joints are cut into the slab as stress relief points. The spacing will be every 10'-15' in a square pattern. Concrete shrinks during the early curing process. When it shrinks, the concrete will crack. Control joints are inserted to have a weak point in the slab directing the cracking within the joint.
Leaving these joints open will allow dirt to impact within them, creating a place for bacteria to grow and cause issues. These open joints also cause an issue for forklift traffic. When a forklift rolls over the open joint the wheels impact the joint shoulder. Over time, the shoulders start to crumble, and spalls develop.
By cleaning them out with a joint saw before the polishing process starts, you can fill them with a control joint resin. Running the saw blade down the joint will clean the sides of the joint preparing it to accept the joint filler. This will reduce forklift damage and keep the floor cleaner.
Conclusion
There are several commercial brands of grinders that can polish concrete. Before buying a setup, look at the level of service the supplier provides. The size of the grinder will be dictated by the size of the work you are pursuing. Always select a dust collector that will perform at an elevated level with the grinder you chose. Not having enough vac will create a dirty job site and could cause a health issue for your employees. Air scrubbers will also help with the airborne cement dust. Auto-scrubbers allow you to work more efficiently when cleaning between grinding steps and, if wet cutting, pick up the cement slurry in a professional manner. Lastly, control joints need to be cleaned out with a joint saw to be filled leaving the finish floor with minimal maintenance.
DiamaPro Systems manufactures all necessary equipment for polishing concrete floors. We stand by all of our concrete prep and polishing equipment as being "Jobsite Tested, Contractor Approved." The machines contractors want to use with features they love! Find a DiamaPro Systems distributor near you to rent or purchase equipment.