UV-HS Plus System
The Ultimate Concrete Floor Protection
DiamaPro® Systems' UV-HS Plus offers exceptional abrasion resistance, service life, and ease of maintenance. It can be cured instantly upon exposure to ultraviolet light and can be applied with minimal interruption of service during remodeling or restoration projects. In addition, UV-HS Plus brings exceptional efficiency to businesses looking to minimize downtime; the system can be applied, and the floor returned to service overnight or in an eight hour shift. 
DiamaPro UV-HS Plus is ideal for use on heavily trafficked floors in industrial, manufacturing, healthcare, food service, malls, and other commercial operations. It offers substantial reduction in marring from forklifts, pallet movers and other material handling equipment, has excellent adhesion properties, and is highly resistant to weathering, abrasion, and chemical corrosion attack. The coating is impervious to chemicals present in the working environment and in cleaning agents. 
DiamaPro UV-HS Plus is a single component, ultraviolet light cured, low VOC aliphatic urethane that is highly water and chemical resistant and adheres exceptionally well directly to concrete and other resinous flooring materials. It's easy to apply, easy to cure and drastically reduces downtime. There is no more effective or efficient concrete protection process.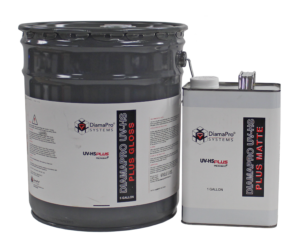 UV-HS Plus is a durable, chemical and stain resistant uv-cured concrete coating that protects floors from physical, chemical and microbial wear